Self Cleaning Cat Litter Box
90-Day In-Home Trial

Free Shipping (ex. AK/HI/PR)
The ultimate solution for hassle-free cat litter maintenance. With its elegant design and advanced features, Vividmoo's self-cleaning litter box ensures a clean and comfortable litter box experience for your furry friend. Say goodbye to scooping litter and hello to a fresh bed of litter every time.
Key features of Litter Box:
Advanced litter-sifting technology for effortless cleaning
Reduced litter tracking for a cleaner environment
Real-time monitoring of waste and litter levels
Smart Scale in the Vividmoo app to track your cat's weight
Designed to accommodate up to 7 cats with its design
Includes a fence, step, and carbon filter for added convenience
Join the community of 1 million pet parents who have upgraded to a smarter litter box. Never scoop again and enjoy a significant reduction in litter box odors. Please note that the bezel patterns may vary from the images.
Specifications
Product Name:Smart Cat Litter Box
Product Model:UCAT C10 PRO / UCAT C10
Main Material:PP
Product Size:520 x 530 x 555mm
Input: 12V 1A
Rated Power:12W
For Cat Weight:3-22 lbs/ Age> 4 months
Machine Weight: 9.5KG
Max Weight Capacity:44 lbs/20 kg
Waste Bin Capacity:5L/ 1.3 Gal
Applicable Litter:All clumping cat litter (length<15 mm)
Function/Model
Weighing protection / Microwave radar / AI recognition / Drum's location detection / Rear cover's location detection / Anti-pinch protection / One-key litter replacement / 2-step quick disassembly / Health management / Real-time view / Video recording
NEVER SCOOP ANY MORE
Vividmoo smart litter box makes cat-life easier by removing the chore of scooping.
SEVEN FOLD  INTELLIGENT SECURITY PROTECTION 
10 high-precision sensors detect & protect your cats a every moment.
INNOVATIVE INTEGRATED TOILET STRUCTURE
During the rolling process of the vividmoo litter box, the outlet of the toilet collection bin and the drum are fully integrated. The toilet collection bin remains in a relatively static state, eliminating any risk of cat entrapment and ensuring both safety and peace of mind.
Customer reviews
Customer reviews
The ultimate cat litter box solution! Convenient, clean, and hassle-free. A must-have for cat owners in small spaces.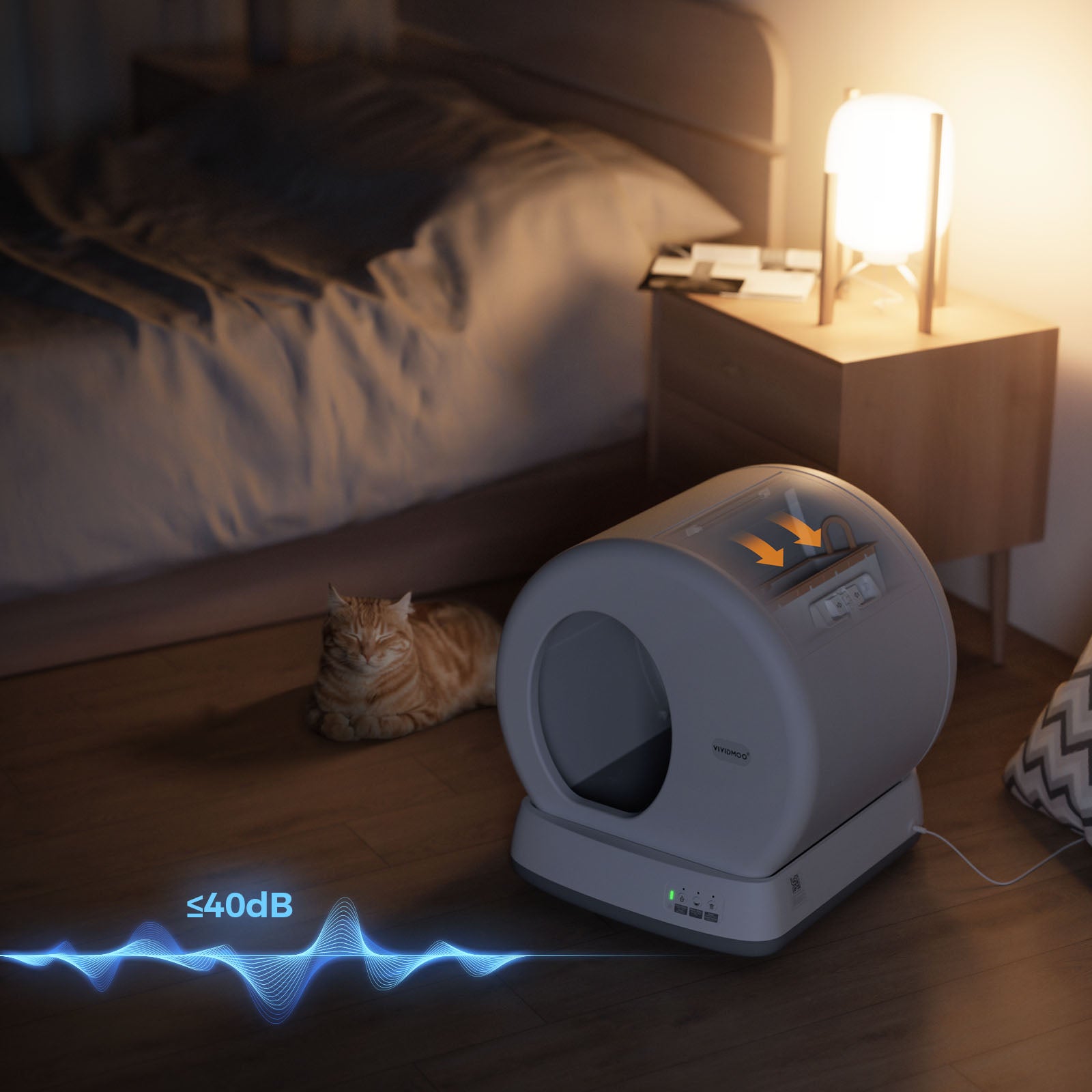 The ultimate cat litter box solution! Convenient, clean, and hassle-free. A must-have for cat owners in small spaces.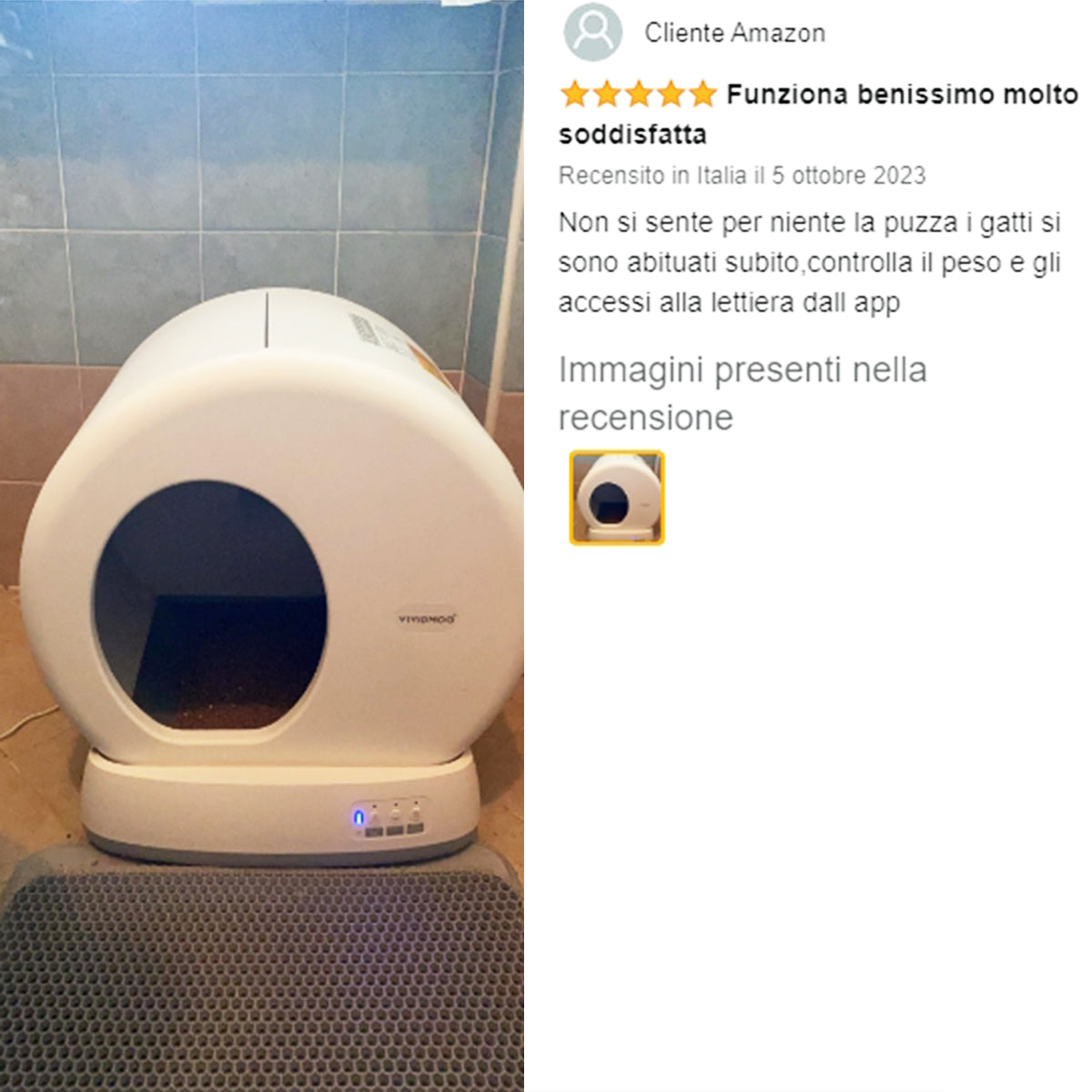 Just BUY IT ! Highly recommended who want to eliminate the tedious scooping and disposal tasks.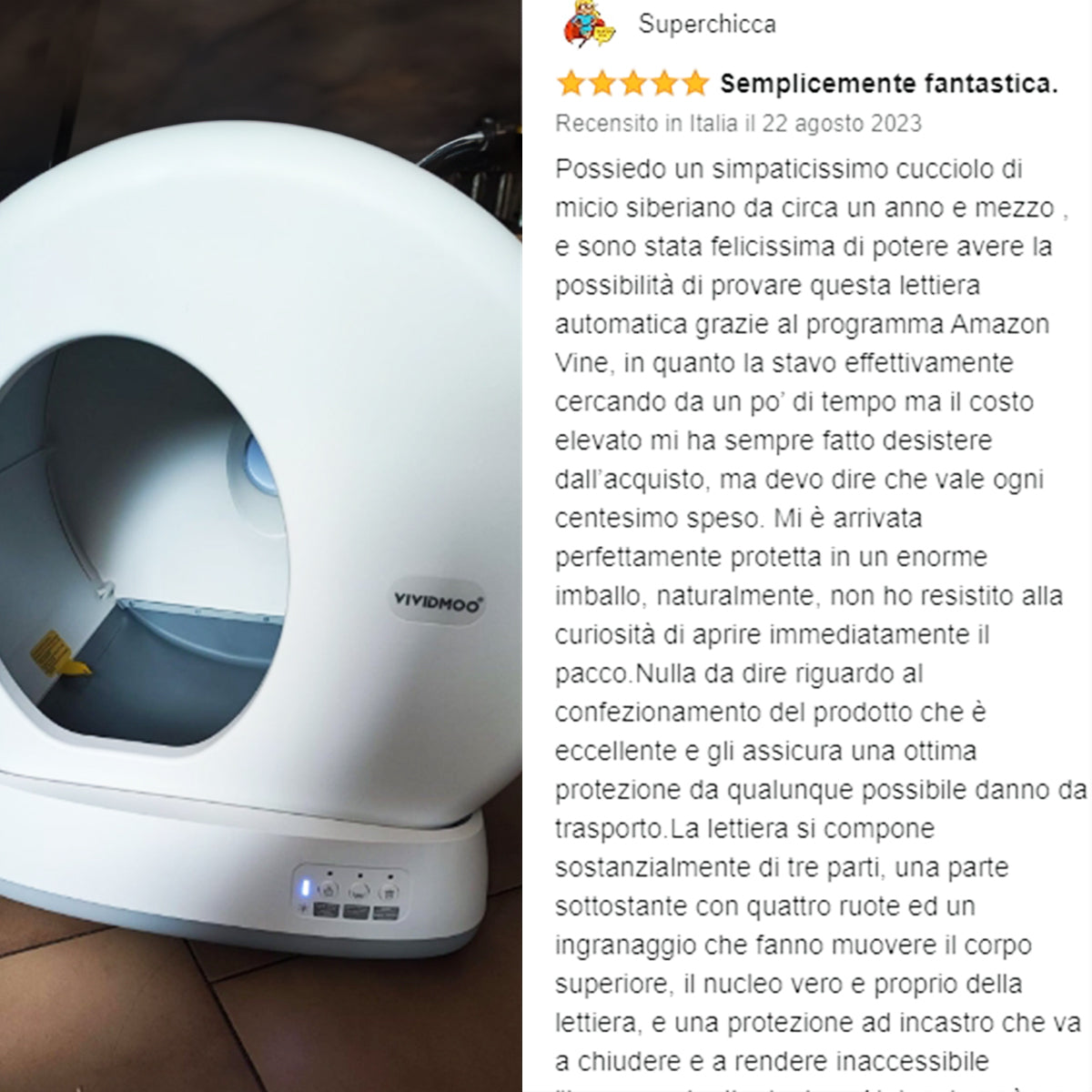 Very quiet!! larger opening and quiet operation. Highly recommended for a hassle-free litter box experience.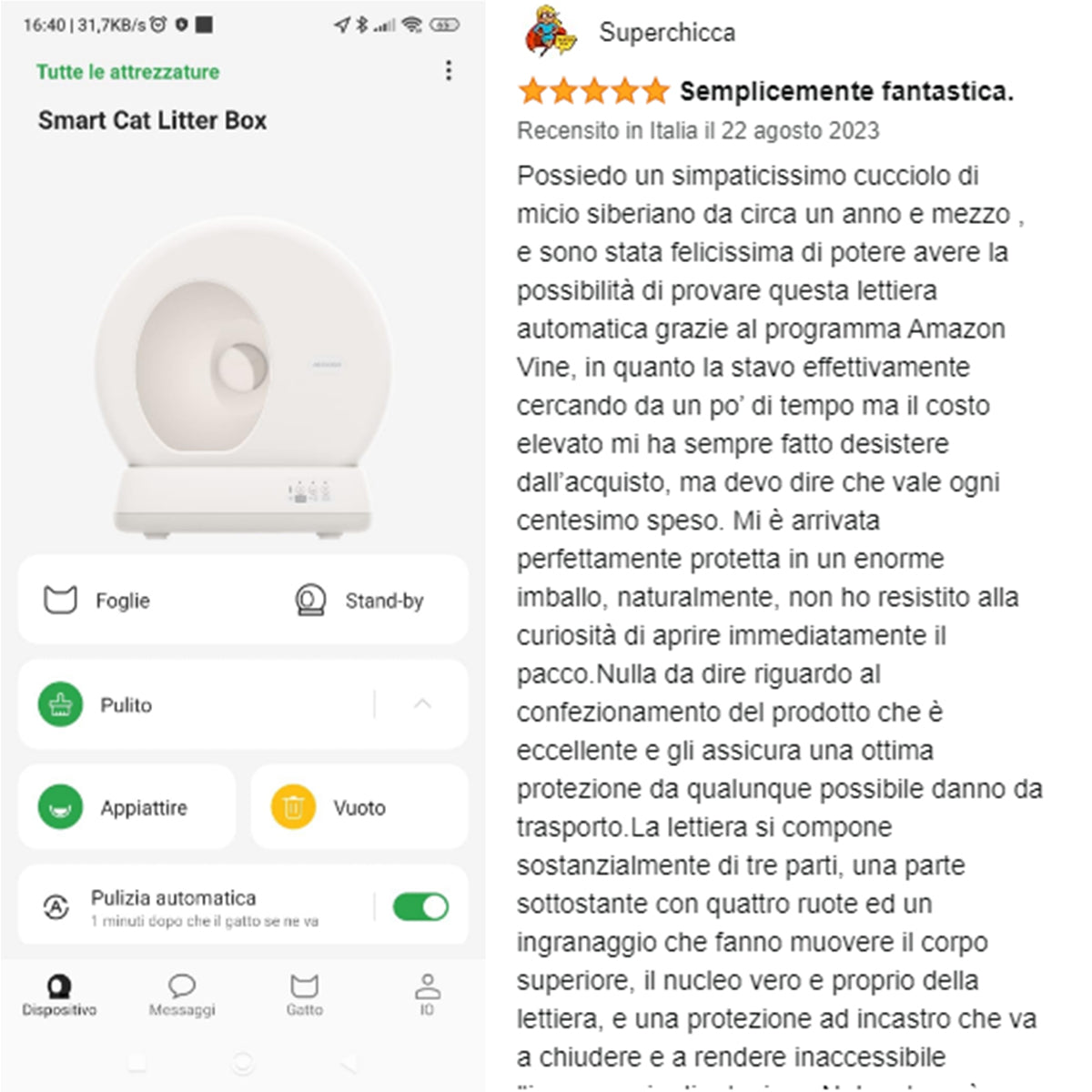 life-changing! Say goodbye to stinky litter boxes and messy cleanups.
The best smart litter box
A fantastic machine that excels in odor control, operates quietly, and is proudly made in America. Ideal for those seeking top-of-the-line performance and reliability.
Cat applicable range
The litter box fits all cats weighing 3.3-18 pounds and offers an activity space of 14.9 x 13.7 x 19.7 inches with a 57.6L capacity. Its 4.8-inch low-entry design is ideal for older, short-legged, and mobility-restricted cats.

SELF-CLEANING
With its automatic waste-sifting mechanism, you will never have to manually scoop again. The unit takes care of waste removal after every use.
APP PET MONITORING
Monitor pet's weight and track their bathroom usage and receive alerts regarding waste levels. Stay informed about your cat's wellbeing with our pet monitoring capabilities.
ODOR CONTROL
Clumps are effortlessly directed into a securely sealed drawer, effectively preventing any odors from escaping.
MULTIPLE CATS AMIABLE
Eliminating the need for multiple litter boxes. A single unit can comfortably serve up to four cats.
Easy to install and Clean
It performs a self-inspection after power on and features a one-click empty function for litter replacement and drum cleaning. The whole body is washable (except the base), and we recommend cleaning the inside every 1-3 months while replacing the liner every 3-5 days to prevent bacteria growth.

Double odor removal
100% sealed waste bin and removable odor eliminator. Smart Spray air purifier deodorizes automatically after cleaning, with planned deodorization available via app.

EARNING TIME & MONEY

by eliminating the need for daily scooping and reducing the amount of cat litter used.

SILENCE CLEANING
Vividmoo Juicer is an efficient, versatile, and easy to use cold press juicer. Our high-quality Juicer comes with years warranty
INTELLIGIBLE DESIGN
The control panel is equipped with 3 buttons and an LED display, providing a user-friendly interface for seamless operation.

JUICE RECIPES & TIPS
Weight Loss, Energy, Immuity ... Reaching Your Goals Different reasons to want to juice, in each one, you'll find helpful

JUICE RECIPES & TIPS
Weight Loss, Energy, Immuity ... Reaching Your Goals Different reasons to want to juice, in each one, you'll find helpful

Applicable Litter: lgth<15 mm
Waste Bin Capacity: 5L/ 1.3 Gal
FAQ
Get Answers to commonly Asked Questions about Intelligent cat litter basin
Reviews
Hear why thousands of our customers love CapturePro
Vividmoo Pet is worth every penny, and with flexible financing options, it's budget-friendly too.